On October 5, 2023, the College of Economics and Business Studies (CoEBS) of the Sokoine University of Agriculture through the Department of Agricultural Economics and Agribusiness organized a master defense of its four candidates in the Master of Science in Agricultural and Applied Economics. The candidates and their dissertation titles were as follows:
| | |
| --- | --- |
| Candidate name | Dissertation title |
| Deogratius Mahandeka | "Economics of Indigenous Beef Cattle Fattening in Morogoro and Dodoma" |
| Daud Moses Msengi | "The Interface Between Participation in Agricultural Production and Poverty Among Small-holder Farmers in Tanzania: Analysis of Maize Sub-sector" |
| Laura Vedasto Ndibalema | "Effects of Financial Inclusion on Tomato Production in Kilolo District Iringa, Tanzania" |
| Namsifu Selemani | "Gendered Intra-Household Dynamics and Adoption of Improved Agricultural Technologies by Paddy Farming Households in Tanzania" |
The candidates successfully defended their dissertations after deliver their presentations which were supervised by the panel of COEBS members of academic staff which involved Prof. Ntengua Mdoe, Prof. Joseph Hella, Dr. Silver Hokororo, Dr. Roselyine Alphonce, Dr. Zena Mpenda, Dr. Felix Nandonde, Dr. Fulfence Mishili, Dr. Nicetus Seluhinga, Dr. Mahamud Ngaiza, and Dr. Florens Tu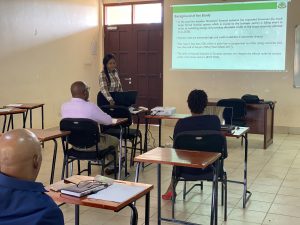 ruka.
The dissertations' presentations covered a wide range of topics related to agriculture and development in Tanzania, including the economics of indigenous beef cattle fattening, the interface between participation in agricultural production and poverty among smallholder farmers, the effects of financial inclusion on tomato production, and gendered intra-household dynamics and the adoption of improved agricultural technologies by paddy farming households.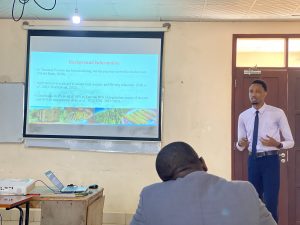 The successful defense of these dissertations is a significant achievement for the candidates, as it marks the completion of their MSc studies in Agricultural and Applied Economics. Their research on a variety of topics related to agriculture and development in Tanzania is valuable and will contribute to the advancement of knowledge in this field.
Congratulations to the candidates on their success, and to their supervisors for their guidance and support. We wish them all the best in their future endeavors.